IS YOUR IT INFRASTRUCTURE SECURE?
Vulnerability assessment tools are an essential part of enterprise security strategies, as scanning applications and network for known vulnerabilities is a key best practice.
The VAS tool is running on an industrial mini PC sets in your network for internal audit, or outside the network for external audit. It continuously running to find out gaps in your infrastructure. It scans against latest daily updated SecInfo database, current:
Call us now for 2 Days network assessment. The tool can cover up to 500 IPs (effective number depends on scan pattern and scanned systems).
Our All-in-One Security solution providing comprehensive cyber security solutions for the enterprise, large business and SOHO,Our solutions bring together the most advanced technology available to make protecting your business easier than ever before. Our products are built on the most reliable platforms and are engineered to provide the highest levels of performance, stability and confidence.
Intelligent Business Continuity
Data protection solutions are essential for businesses of all sizes to implement, regardless of size, industry and geographic location. Business continuity is more than simple backup.
Datto As the world's leading provider of IT solutions delivered by Managed Service Providers (MSPs), Datto believes there is no limit to what small and medium businesses can achieve with the right technology.
Datto offers business continuity and disaster recovery, networking, business management, and file backup and sync solutions, and has created a one-of-a-kind ecosystem of partners that provide Datto solutions to half a million businesses across more than 130 countries. Since its founding in 2007, Datto has earned hundreds of awards for its rapid growth, product excellence, superior technical support, and for fostering an outstanding workplace. With global headquarters in Norwalk, Connecticut, Datto has international offices in the United Kingdom, Netherlands, Denmark, Germany, Canada, Australia, China, and Singapore.
I0T Cyber Security SOC
Once implemented you are entitled to receive Cyber Essential Canadian certification.
The service architecture is designed to isolate and prevent any issues affecting the quality of service (QoS).
The SOC as a Service's efficient monitoring of all security activities across end-customers' environments enables quick turn around time for investigation and response. Each end-customer's data is stored in its own dedicated container, completely isolated from other end-customers' data which ensures that all customers' data is kept separate and leak-proof.
The SOC solution has been attested as compliant to PCI DSS, SOC 2, NIST and HIPAA, giving you confidence in the SOC as a Service's  ability to secure the confidentiality, integrity, and availability of your end-customers' data.
Also included a Cyber Security Insurance policy (at no extra cost) that covers who ever is making proper use of their SOC as a Service up to $500,000.00 as long as the end user meets and continually complies with their SOC as a Service (ie; compliance and mitigations in the times specified as they happen. along with changes of policies and procedures.)
Listed below is what is supplied with the SOC as a service 7/24 365 monitoring:
(Note: this will cover, deployment of a cloud or Virtual sensor in your end-customer's cloud or on-premise environments. The sensors natively monitor AWS and Azure cloud. For on-premises virtual sensors run on VMware and Microsoft Hyper-V to monitor the physical and virtual IT infrastructure)
Module 1: SIEM & Log Management
› Event correlation
› Log management
› Incident response*
› Integrated threat intelligence*
› Security Team and the Open Threat Exchange® (OTX™)*
Module 2: Asset Discovery
› API-powered asset discovery
› Network asset discovery
› Software and services discovery
Module 3: Vulnerability Assessment
› Network vulnerability scanning
› Cloud vulnerability scanning
› Cloud infrastructure assessment
Module 4: Intrusion Detection
› Network Intrusion Detection (NIDS)
› Cloud Intrusion Detection
Module 5: Endpoint Detection and Response
› Host-based Intrusion Detection (HIDS)
› File integrity monitoring
› Continuous endpoint monitoring & proactive querying
Module 6: Behavioral Monitoring
› Asset access logs
› Cloud access and activity logs (Azure Monitor, AWS: CloudTrail, CloudWatch, S3, ELB)
› AWS VPC Flow monitoring
› VMware ESXi access logs
No resources are required bu to deploy or maintain the SOC, accept any changes in policy or procedures that are required or mitigations when notified. Also there are no hidden additional costs for multiple locations or physical sensors.
All-in-One industrial Security Appliance
A Firewall Isn't Enough: Protecting Yourself Against The Threats You Can't See!!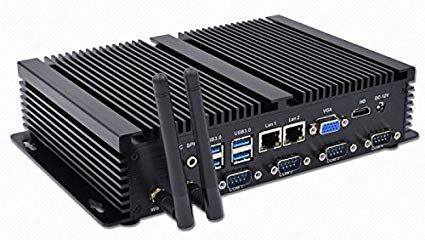 Router mode
Transparent Bridge mode
VPN
DHCP
DNS
NAT
Firewall
IDS/IPS
AntiVirus
AntiMalware
GeoIP Block
DNS blacklist
URL filtering
Flow and Traffic shaping
Queuing
Traffic Monitory (Bandwidth, Lyear 2 – 7)
Content Caching
Captive portal
2/4/6 or 8 Ethernet ports with wire speed